Valuing elasticity and gloss effect – BTM Spun Oil Washing Range
2021-09-22 Read[348]
The definition of 'Spun Oil Washing' is essentially a process in which the spun oil of synthetic fabric would be emulsified and degreased for washing process. By adding proper type detergents into the washing machine, physical and chemical effects of the detergents can be activated to weaken the adhesion strength between the spun oil and the synthetic fiber. Then the stains and silicone oil spots would be separated under the condition of applying soak washing and adaptive temperature within the washing chambers. Finally, the washing effect of the Spun Oil Washing Range (e.g. spraying effect) will wash off these separated stains and excess spun oil on the synthetic fabric, while the rest spun oil would be kept and evenly distributed on the surface for the sake of later on good dyeing quality of the fabric (color depth and gloss uniformity).
With years of research and development, the BTM brand under TEXPRO Group, has kept launching a series of environmentally friendly and high efficient (and intelligent) open-width wet finishing ranges to the market. Among which, the new generation Spun Oil Washing Range is an outstanding one (short and long designs) with no doubt.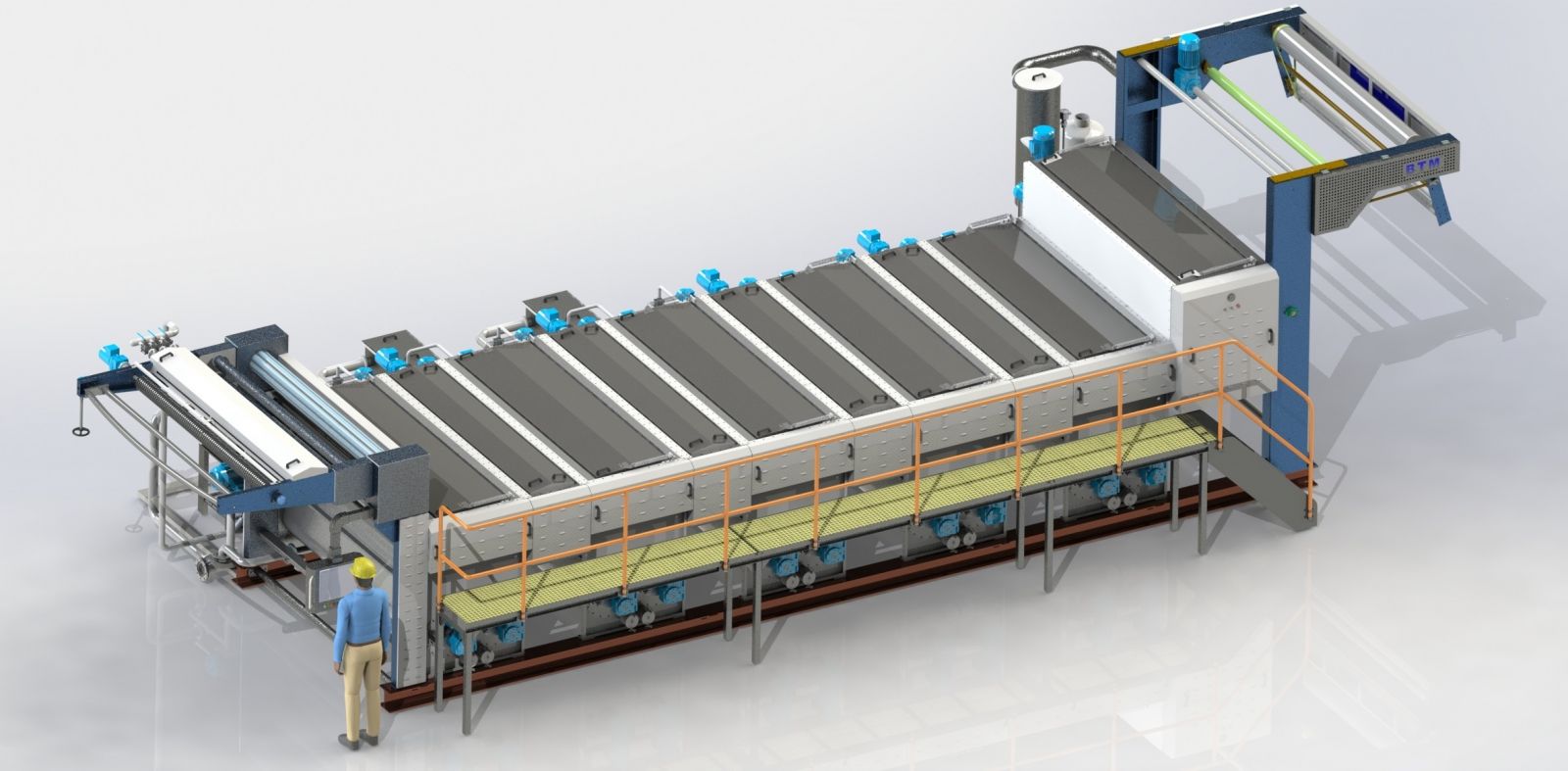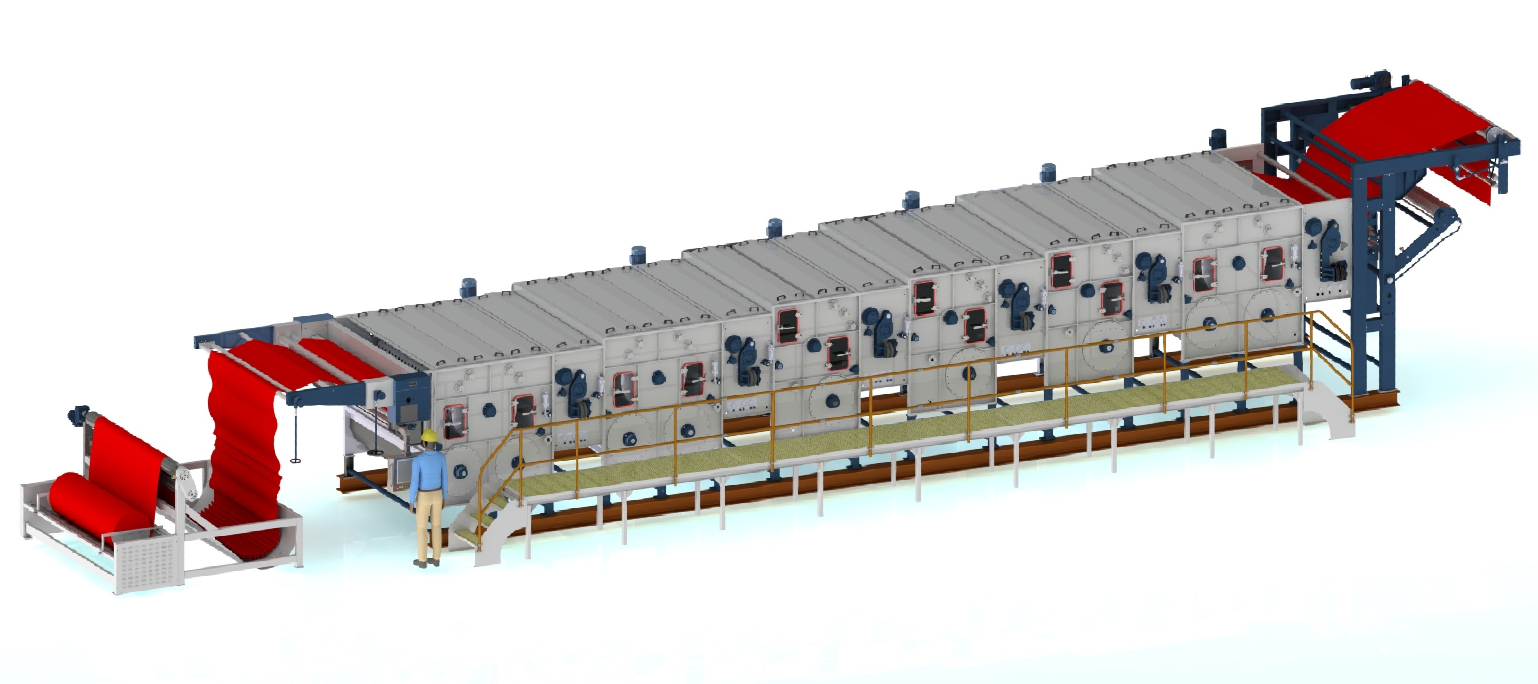 Considering that the garment industry is now having more and more strict requirements on fabric quality and also environmental protection than before, the Spun Oil Washing Range, which with characteristics of high-efficiency, energy-saving, intelligent operation and uniformly treatment has become more and more welcome in synthetic fabric pretreatment process than before.
The Spun Oil Washing Range of BTM is suitable for low-tension fabric running and ultra-fine sensitive fabrics' spun oil process. Its high automatic control system ensures its high process reproducibility. In addition to the standard configurations of automatic dosing, automatic inlet and outlet, automatic temperature control, it adopts the tailor-made PLC program which is supported by BTM and could be connected to the factory's management system easily.
Process Design Features:
1.Independent Spun-oil Washing Range
The Spun Oil Washing Range of BTM adopts the three-in-one washing method, combining spray washing, turbulent stamping, and soak washing for the sake of frequent penetration effect as well as strong liquid exchange activities inside and out of the synthetic fabric.
The BTM Spun Oil Washing Range can be operated independently with a production speed of 20-50m/min (depends on the very machine design and fabric type) in continuous open-width fabric status.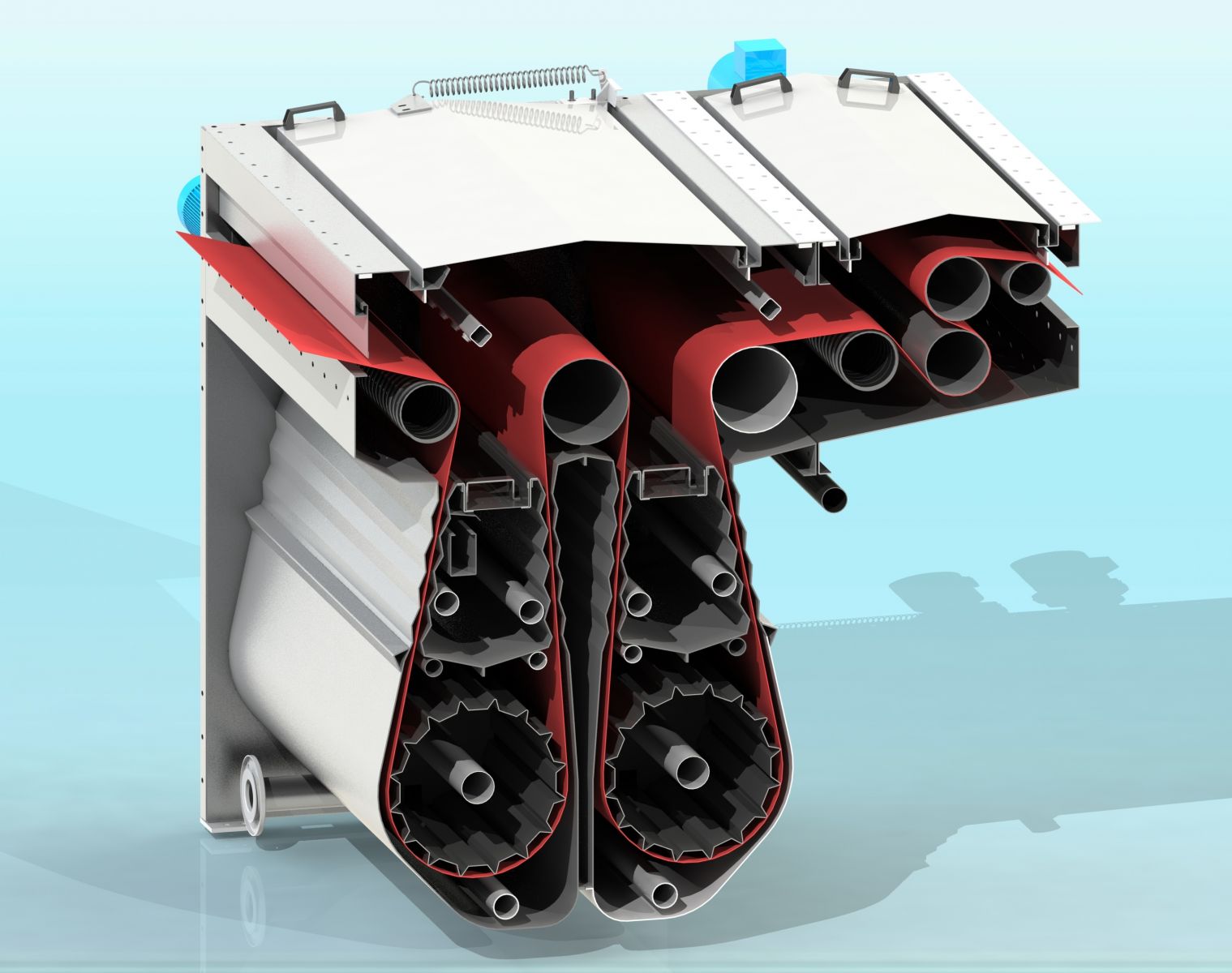 2.Serving as spun-oil washing chambers which highly synchronized with stenters
Besides carrying out independent production process, due to the BTM team's distinguished technical process design and system programming service, the Spun Oil Washing process can be modularly configured as washing chambers in front of the stenters and synchronized the same with the stenter. In such case, synthetic fabrics could transfer to the stenter for heat setting process right after spun oil washing in BTM chambers. Such combination would significantly improve the site turnover rate in the factory and also increase the production efficiency by saving lots of time. Meanwhile, the quality of pretreatment has been guaranteed after one-stop spun oil washing and heat setting process, ready for the subsequent dyeing process of high-end fabrics.
Technical advantages:
Low tension operation
01 Sensitivity tension detected sensors are applied in all washing chambers
02 The real-time tension detected information will influence the related driving rollers for the sake of tension compensation
03 Large diameter washing drums and short fabric running paths between rollers are applied, while many drive-rollers are applied as well to minimize tension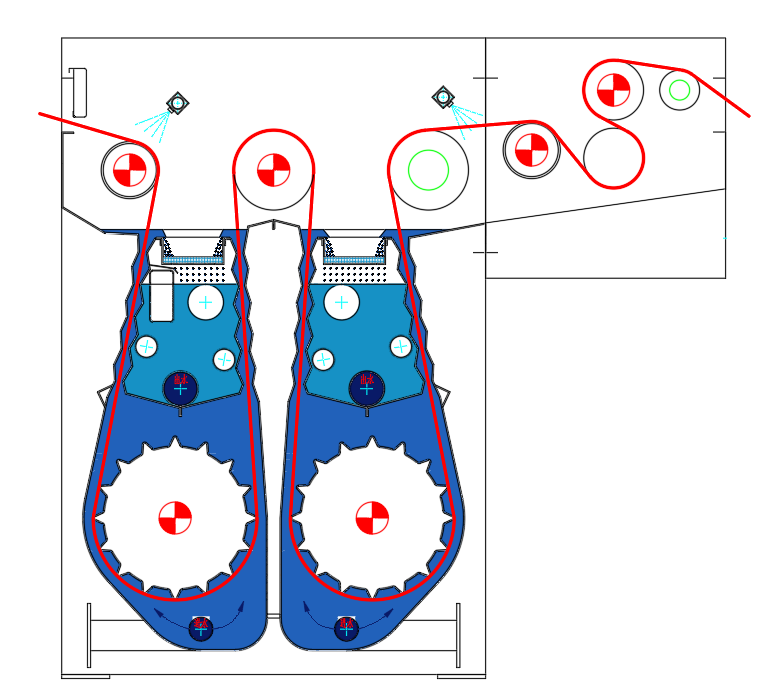 Extraordinary oil removal uniformity and washing effect
01 Three simultaneous washing effect: Spray washing, turbulent stamping, soak washing
02 When the fabric is treated in open-width condition, it is much easier to generate a more even washing effect as well as high-efficient liquid penetration effect
03 Intelligent PLC programmed combines with precise dosing system to avoid piece dyeing color difference if later fabric goes to dyeing process
High applicability, high efficiency, energy saving and environment friendly
01 When operate with proper washing auxiliaries, BTM Spun Oil Washing Range is suitable for almost all kinds of synthetic knitted fabrics in the market
02 24 hours a day continuous, non-stop open-width production with a speed of 20-50 m/min (depends on the very machine design and fabric type).
03 The counter flow washing design of the range can significantly save water consumption as well as auxiliary agent consumption a lot
As we all may know, Energy Saving, Emission Reduction and Intelligent Manufacturing are all the inevitable choices of dyeing and finishing industry development in the future. As a rising star of the TEXPRO Group, BTM, will persist to take its intelligent manufacturing design concept as an important point for its future innovation development, and, accelerate the intelligent transformation pace together with TEXPRO Group.